Marketing videos that hit the mark and explode it, too.
If you watch a video on LinkedIn at 9:00 AM, by 9:02 AM there will be a different video that has taken its place. Scroll down and you might find that same 9:00 AM video, but there will be a dozen other content in-between.
That's the world we live in. Competition for eyeballs is fierce. Content gets pushed down like Thanksgiving dinner. Memories are short and slippery, stains don't stick like they used to.
That's the challenge marketers face if and when they have a budget for a web video. It needs to be memorable, and of course, still deliver the message. That balance is not as easy as it may seem.
So how do you create a video that leaves a big and noticeable, but purposeful, stain?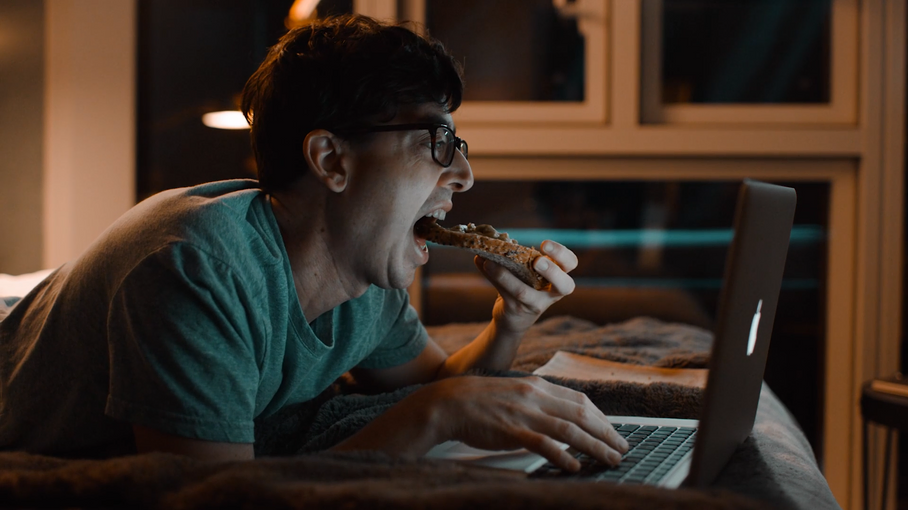 As examples, we take several videos Picturelab produced for one client, Gong. Gong is a tech company focused on bringing machine learning and intelligence to sales. They think out-of-the-box and want the world to know that Gong-culture is fun and exciting, though they're deadly serious about delivering a product that works, and has transformed a process that probably hadn't changed in a few centuries.
Video #1: An explainer that does more than sell
Startups that bring something new to the world need an explainer video. Who are we and what do we do? But explainers have been copied and remade using the same formula that it's easy for even the most exciting products to get lost in the content dump.
The thing that makes Gong's explainer different is the production value and humor. It's not the kind of humor that distracts from the brand. There's enough of a subtlety and balance that it's funny but we still remember what Gong is and does. The acting is solid and the use of a steadicam adds to the overall quality that sets this piece apart.
Video #2: A Holiday video that says something about the brand
Gong could have easily sent out cards with swag to wish their clients happy holidays, but they wanted to do it in a much more fun and memorable way. The video had to be funny, but it had to speak to their client base – sales professionals. Here's the end result, which speaks for itself:
Video #3: A video that can't be "Beat"
Gong wanted to build excitement for a new product launch. They wanted to do a trailer-like video that raised awareness and anticipation. Good looking actors undergoing a make-over and a whole bunch of extras, and a funky beat to go with it, make this Gong Beat video something to jazz up the audience.
Video #4: An announcement video that sings
Yes, literally. Gong raised cash and they wanted to announce it in an interesting way. The concept was that they're busking for several million dollars. But it had to be more than a simple gag to leave a mark. Shot at Yerba Buena Gardens in San Francisco, the video features actual Gong employees performing Queen's "Can't Stop me Now". Because of the venue, the scope, and the cameos (the guitarist is Gong's CEO), this became a very memorable marketing video for Gong's fans and clients.
Video #5: More money, another fun video
After raising another round of investments, it was time for another celebration. This time, Gong wanted to use the video after the announcement as a stand-alone marketing video. The resulting piece was a Sex and the City spoof featuring a sales guy whose world is always rosy like a Cosmo and tasty like avocado toast. Wit, the performance, and adding production value even for a simple video like this added to the overall effectiveness of the video. And yes, avocado toast is memorable.
Conclusion
Marketing videos need to stand out. Even a holiday video card should be different. Every announcement is an opportunity to leave a mark. Adding value, and in Gong's case, humor, is a good bet that your video won't be a dud.
To learn more about how Picturelab can help you create fun and memorable videos, contact us at info@picturelab.com.