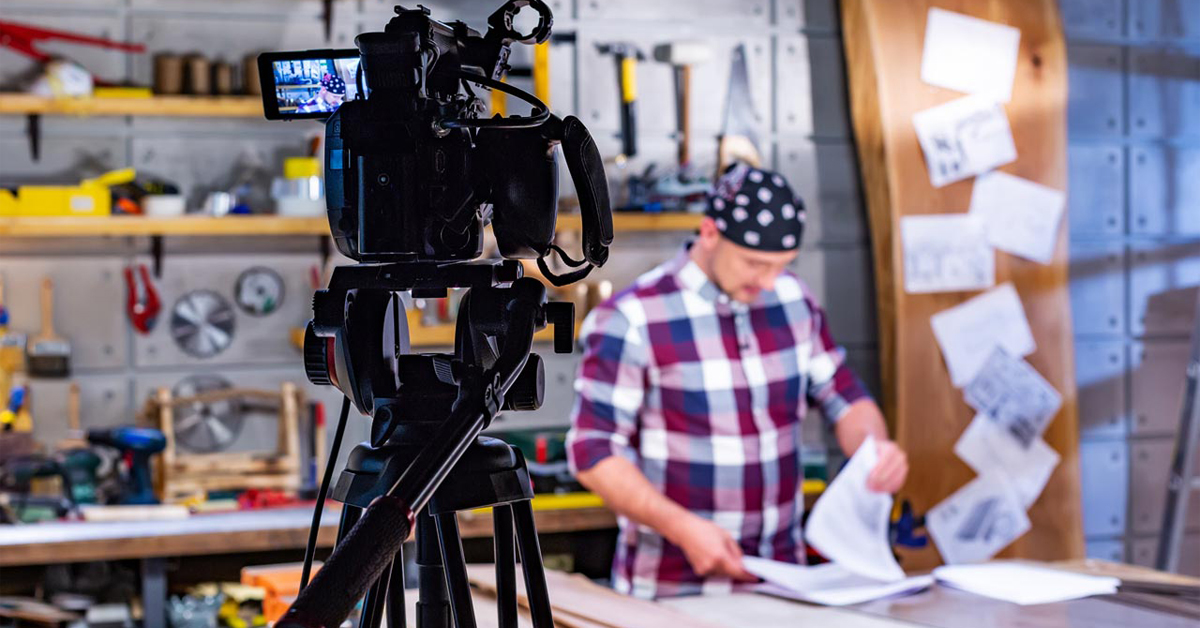 Video is one of the most powerful storytelling tools for enhanced brand recognition. According to 93% of modern marketers, the use of video can increase brand awareness in a multitude of ways, leading to greater ROI, profits, and sales. Interview or event content spreads the word about your business, while testimonial video production creates a strong marketing strategy that lasts the test of time. Discover the four major types of marketing videos used for brand recognition campaigns.
4 Types of Marketing Videos You Should Utilize to Boost Brand Recognition
From branded content to testimonial video production, there are four major types of videos used to create recognition for your brand.
Brand Videos
Brand videos are created to showcase your company's vision, mission, products, or services.
The best-branded content is fun, engaging, and authentic. Mint's Quest For Credit is an excellent example of branded video and goes the extra mile to talk about the company's team goal in an engaging way.
How-To Videos
Instructional videos are a huge hit with audiences looking for solutions, tips, or how-tos in different industries. You can blend video reviews into a step-by-step explainer of an entire process. Resonai Concierge is an excellent video example of this.
Again, be sure to rely on a professional production company to make sure everyone is extremely pleased with the final result.
Event Videos
A highlight of your events, conference, or product launches shows clients what an amazing job you've been doing. Event videos encourage viewers to become interested in your upcoming activities. Privia Health's product launch explainer video is a good example.
Event videos like case studies and product launches can showcase the success of a trade show, fundraiser, or new product. Create a clear message to show potential customers what to expect from your next project.
Expert Interviews Videos
To build your audience and reach, presenting interviews with experts and leaders in your industry is key. With Picturelab, you can lean into the story and create a finished product your clients can be extremely impressed with.
The best expert video testimonial is the one with perfect post-production. Rely on expert video production companies to refine your final product.
Create a Marketing Video with Us
If you are interested in marketing animations, creative videos, or testimonial video production, Picturelab can help. With more than 12 years of extremely professional experience in the field, we are a detail-oriented video production firm with hundreds of big-name clients in Silicon Valley around the world.
Reach out to the team today to inquire about video production for your future projects. It would be an absolute pleasure for us to guide you through the whole process
Elevate Your Brand Recognition with a Variety of Marketing Videos
In the dynamic world of digital marketing, video has emerged as a powerful tool for boosting brand recognition and building trust with your target audience. Different types of marketing videos offer a versatile approach for businesses to connect with people, create a lasting impression, and achieve their marketing goals. In this article, we'll explore a range of video marketing strategies and how they can elevate your brand's visibility and credibility.
1. Brand Story Videos:
Your brand's story is a vital element in building trust and connection with your target audience. These videos shed light on your organization's values, culture, and the people behind the scenes. They offer a personal perspective of your brand, enhancing credibility and relatability.
2. Customer Testimonial Videos:
Sharing the positive experiences of your customers can create trust and authenticity. Testimonials offer real-life stories of people who have benefitted from your products or services. These videos provide valuable insights and build confidence in prospects.
3. Product Videos:
Highlighting the features and value of your products is a proven way to attract attention. Product videos offer a comprehensive understanding of what you have to offer, making it easier for consumers to make a purchase decision.
4. How-To and Educational Videos:
Addressing pain points and providing solutions is an excellent way to position your brand as an authority in your industry. Educational videos demonstrate your expertise and offer value to your target audience.
5. Company Culture Videos:
Showcasing the inner workings of your organization can offer a unique perspective and give people a glimpse of your brand's personality. It's an opportunity to spotlight your employees, values, and culture.
6. Behind-the-Scenes Videos:
Offering a behind-the-scenes look at your operations and processes can humanize your brand. It reveals the hard work and dedication that goes into everything you do, creating a connection with your audience.
7. Animation and Explainer Videos:
For complex topics or solutions, animation and explainer videos simplify the message and make it more accessible. They're a powerful tool for breaking down intricate concepts and providing clarity.
8. Event Videos:
Sharing your participation in events, webinars, or trade shows allows you to showcase your industry presence. It's a way to bring your audience closer to your brand's activities and results.
9. Blog Post Videos:
Transforming your blog posts into video content is a great way to access a broader audience. It's an excellent method for driving traffic and engagement to your website.
10. Social Media Videos:
Different social media platforms require a variety of video content. Short, impactful videos can quickly catch the attention of users on platforms like Facebook, Instagram, and TikTok.
In conclusion, the importance of incorporating various types of marketing videos into your strategy cannot be overstated. Each type serves a unique purpose and addresses different aspects of your brand's identity and message. Whether you're creating brand stories, customer testimonials, or educational content, these videos have the potential to leave a lasting impact on your target audience, boost brand recognition, and lead to impressive marketing results. So, explore the different kinds of marketing videos and find the ones that best suit your brand's goals and communication style.
Testimonial Video Production FAQs
What to expect when you work with professional video production companies?
When you get video production services from Picturelab, you can expect high-quality, engaging videos that will boost your social proof on a landing page, a website, and in real life.
How much does video content for marketing cost?
The cost of video content for marketing varies depending on the video editing process, production quality, and interview footage. Each video production service has a unique quote.
What are the different video marketing services you offer?
We provide customer testimonial videos, corporate videos, training videos, case study videos, explainer videos, television commercials and more. For details, email us at info@picturelab.com or contact us at 650-965-4898 at Picturelab today!