Picturelab is now a top video production company on Clutch.
Our Clutch Reviews
Since 2009, Picturelab has provided exceptional video production and creative services. From developing initial concepts to writing scripts to shooting full-length videos, Picturelab has the expertise and vision to produce great content for your business. Given that the pivot to video has continued to make a huge impact on the market, Picturelab can clearly offer something memorable and impactful for your business.
Today, we are proud to announce that we have earned our first reviews on Clutch, a leading B2B ratings and reviews company. Based in Washington DC, Clutch collects verified client feedback and uses it to rank and evaluate companies in order to build a business knowledge base. We're proud to have garnered fantastic client feedback, best evidenced by our most recent review, in which we created three marketing videos for the travel community.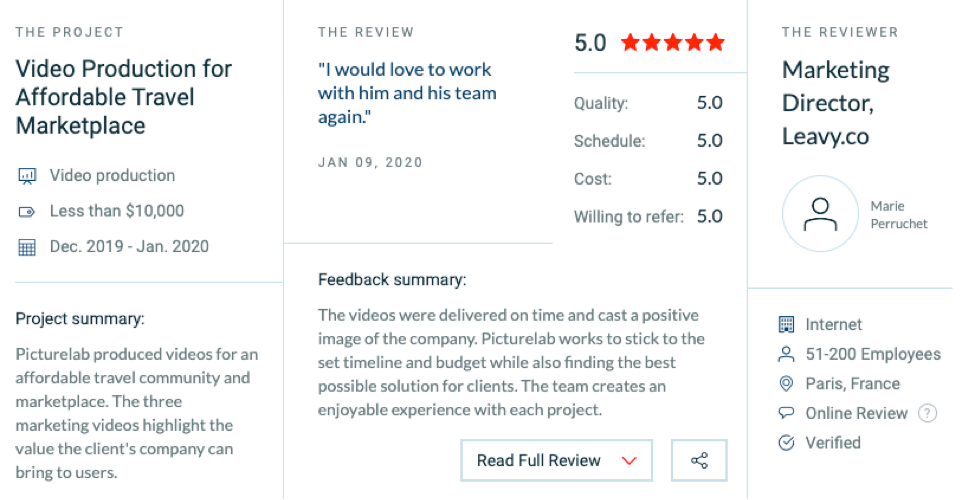 "They produced three professional videos, all on budget and respecting the deadline," said Marie Perruchet of Leavy.co. They were able to extract the best soundbites, sharing positive image about the company and, more importantly, highlighting the value our business brings to our customers…The team met all of our expectations and requirements."
In another review, we created two videos for a facilities service company. Once again, we were lauded for our seamless project workflow, professionalism, and customer support.
"So far, we have received great feedback from our sales team and a few clients we have shown," said Jenny Strick, an executive at Service by Medallion.
Top Video Agency in the San Francisco Bay Area
All of this great feedback ensures that we are ranked as one of Clutch's top video agencies in the San Francisco area. We hold a 4.8/5.0 on Clutch. Our work has been seen around the world: feel free to browse our portfolio of explainers, testimonials and commercials that show how we've revolutionized brands through live action and animated videos. We're so thankful to all of the people that took the time to leave us feedback on Clutch!
Our work can also be found at Visual Objects, an online portfolio site that ranks companies and displays their work. Companies with visually-oriented portfolios can seamlessly present to prospective buyers, making the whole process far more reliable and trustworthy.
If you are looking to start a project with us, feel free to drop us a line here or at info@picturelab.com. We're excited to dive into your vision for the future.