Picturelab's videos receive positive reviews.
At Picturelab, we help brands tell stories through engaging, smart, and effective videos. We are a full-service video production company, and we work with our clients from brainstorming to scriptwriting to shooting to editing. Beyond live action footage, we're also experts in animated video production. We understand our clients' brands and from that formulate a relatable and compelling story. Since 2009, we've been producing videos for businesses of various sizes across industries!
Reviews on Clutch – HR Tech
We recently received reviews on Clutch that demonstrate our video production expertise. Clutch is the leading B2B reviews and ratings website. Headquartered in Washington, DC., they aim to connect businesses with the best agencies for their B2B needs. Their team of analysts collects clients' feedback, analyzes industry data, and compares competitors in the market to provide entrepreneurs and managers with the information they need.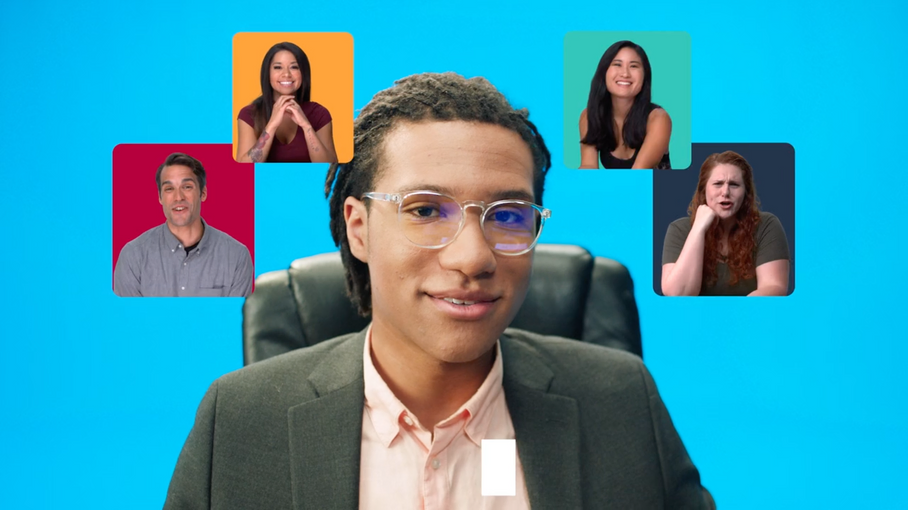 The first review was from an HR technology company. We produced a new brand video for their team that highlights their position as a market leader. First, we studied the client's brand and created concepts for the video; we collaborated with the client to refine our ideas into a cohesive story. After that, we wrote the script and edited it with the client. We proceeded with the shooting and editing of the video.
The video received strong positive feedback from stakeholders, and it resulted in increased brand awareness for the client. Additionally, they were happy with our production process, as it was seamless and we accommodated their requests for edits. They praised our timely response and fast turnaround time. "We are impressed with their ability to tell our story in less than 90 seconds. Their animation team is incredible," said Joe Matar, VP for Marketing of Brazen.
Due to the success of our partnership, the client gave us perfect five-star ratings across all metrics!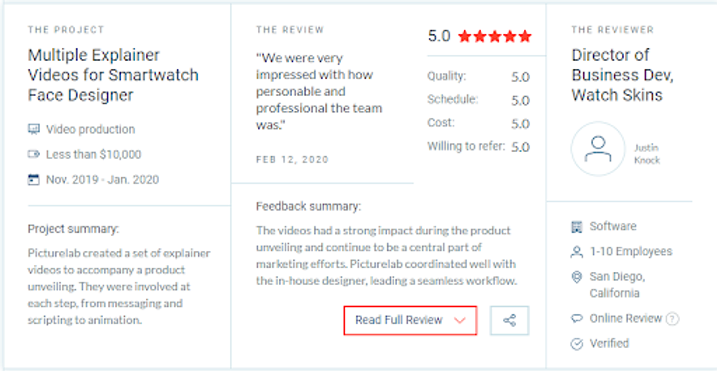 Startup Video Review on Clutch
We also received a review from a smartwatch startup. We produced an animated video for their team to highlight their product concept in a visually appealing manner. After understanding the client's project description, we handled everything — scripting, animation, and edits.
"The final videos made an incredible impact and was pivotal to our initial unveiling," said Justin Knock, Director of Business Development at Watch Skins. "The videos Picturelab produced continues to impress our audience with our ongoing marketing efforts." Additionally, the client praised our professionalism and attention to detail. And so, with such a successful engagement, the client gave us perfect five-star ratings across the board!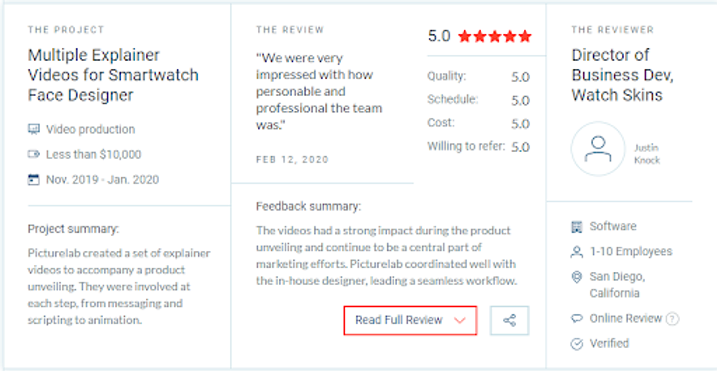 Additionally, we were highlighted in the Manifest as a Top Video Production Company! A sister website of Clutch, the Manifest is a business news and how-to platform that analyzes and compiles industry data. Their website features leading companies and serves as an entrepreneur's guide to connect with the perfect agencies for their needs. That said, we're proud to be featured on the Manifest!
We thank our clients who took the time to review our work. Their feedback is invaluable to us, as it allows us to identify what we are doing well and what needs improvement. Aside from that, their positive ratings inspires our team to improve our services and innovate our approaches.
Do you have a video project in mind? Contact us today, and let's discuss how we can help.